VR communication capabilities
Virtual reality (VR) has captivated the world of healthcare communications, creating enormous opportunity for pharmaceutical companies to bring their concepts to life. From mechanisms of action to disease awareness, the healthcare industry has been quick to adopt VR – but the opportunities are far from over. Google's 'Tilt Brush' presents a new and exciting opportunity to increase engagement through VR.  
Tilt Brush – virtual painting with endless possibilities
In 2016, Google released 'Tilt Brush' for Vive, an application that enables the user to 'paint in 3D space with virtual reality'. Deemed "a happy accident" by creators Skillman & Hackett who originally intended to create a virtual chess game, Tilt Brush has now been adopted by VR artists to produce masterpieces in a new dimension. 
Having recently tried Tilt Brush, I was blown away by the ability to have complete creative freedom in an infinite landscape. Inspired by the immersive experience, I was eager to discover the potential it may hold for our clients and fellow companies in the world of healthcare communications.
To discover more about painting in virtual space, I sat down with Tilt Brush artist, Lorna Inman, to understand the extent to which the tool could be used in healthcare communications. Lorna is known for her vibrant and innovative 3D landscapes, creating an edge to her artwork through the use of bright, bold colours and animated strokes to distort reality and bring her pieces to life.
Lorna, who recently graduated from the University of Leeds with a degree in Art & Design, described how "depth and perspective in painting takes on a new meaning with VR". Through entering a virtual space, the user is able to "encompass their senses [to create] an emotionally provoking experience". 
"An emotionally provoking experience"
Lorna's most recent work at the Google Automation Summit this year saw her "reimagining mountain and flag artwork" in a virtual environment, live on stage to over 150 guests.
How can Tilt Brush be used to engage stakeholders?
Through her description of this experience, I instantly drew parallels with a medical convention, imagining live, 3D creations which could be created in real-time by Tilt Brush artists to provide attendees with an engaging experience. Pharmaceutical companies would have the opportunity to use the tool to create virtual landscapes in order to promote brand awareness and engage stakeholders.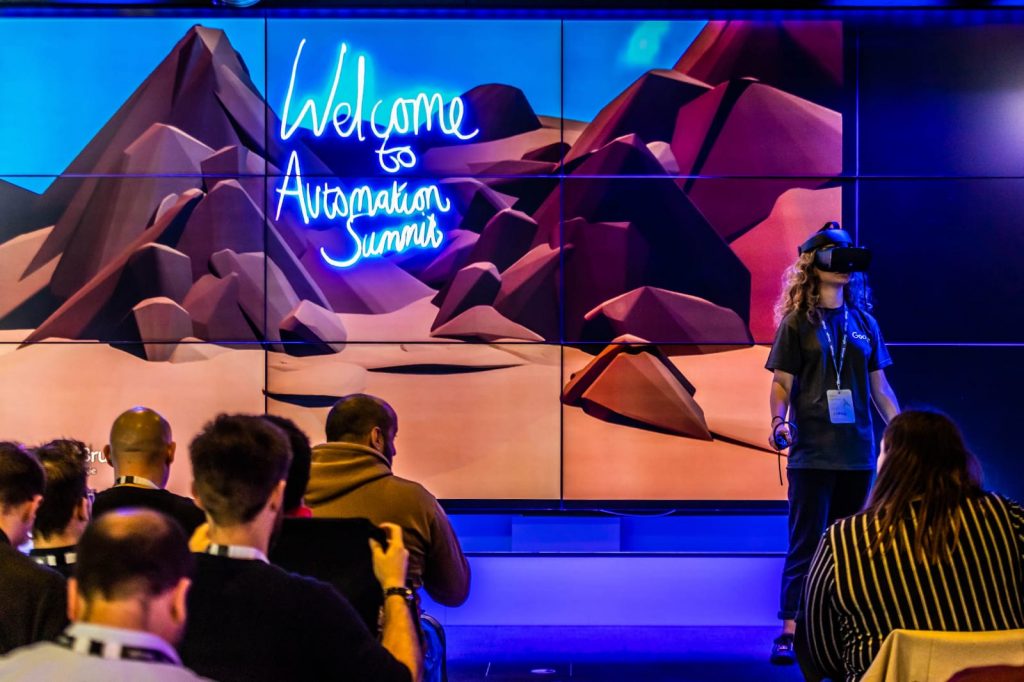 Could stakeholders be involved more directly?
I considered a scenario where attendees at a conference could have a hands-on experience at creating 3D landscapes. When asking Lorna her thoughts on engaging stakeholders with Tilt Brush, she seemed certain that this concept would be a success. She explained that ordinarily, "given a pen and paper… people are tentative trying to draw[as they] think it requires skill and practice". 
She elaborated that "there is something about the infinite space, lack of physical law and theelement of dynamic movement whilst drawing in Tilt Brush that I think really makes people feel creatively free".Indeed, it seems that people from all walks of life would be eager to engage with it.
How easy is it to use?
So maybe stakeholders would be enticed by the opportunity to draw in 3D space, but just how easy is it for newbies to pick up the skill?
Lorna's experience teaching others the functionalities of Tilt Brush has shown her that "the first thing that everyone draws is a squiggle… but they all enjoy the creative freedom, no matter what level they are able to paint at". 
"Creative freedom"
She divulged that "the progress of learning how to use each brush is quick, but the development of learning the ins and outs of each brush, for example, what they look like combined…or how different sizes change the velocity of an animated brush, is all a continuous learning game".
Looking to the future…
Tilt Brush could have huge potential in healthcare marketing. As a growing number of companies embrace the use of VR to bring their scientific content to life at medical events, painting in virtual space creates an exciting and innovative opportunity for pharmaceutical companies to engage their target audience, providing them with a memorable brand experience.
2020 thought starters:
Turn your molecule into a 3D work of art that stakeholders can explore in the virtual world
Give your mechanism of action a Tilt Brush makeover 
Bring your brand reveal to life using Tilt Brush and VR 
Give your team creative freedom with a completely new experience of using Tilt Brush
Want to find out more about how you could use Tilt Brush to increase engagement?
At Enzyme Communications, we are science communication specialists who offer services that help companies make complex information consumable. Whether you're looking to advertise a new product or communicate vital pieces of information to many, we're here to help. If you would like to find out more about our services, please don't hesitate to get in touch.