Across 2020, the healthcare community has been met by unprecedented challenges as a result of the coronavirus pandemic. Lockdown measures have been implemented across the globe driving mass social distancing in an attempt to curb the spread of the virus. In healthcare – an industry known to rely on physical meetings – restricted social interactions has driven the need to reinvent traditional means of communications.
The challenge
Research is the backbone of the healthcare industry. Indeed, the global pharmaceutical industry invested over £1.07 trillion in research and development in the decade from 2007 to 2016, and forecasts predict investment to grow at an average of 4% per year.1 The ever-growing body of research constantly generates new data that the pharmaceutical industry must communicate to the healthcare community.
The working world is undergoing a drastic shift in behaviour. The Office for National Statistics estimated that during the UK lockdown, nearly one-third of adults worked exclusively at home – a drastic increase from the estimated 5% working from home in 2019.2 The shift is here to stay, with remote working predicted to be 'the new norm' for the foreseeable future.
With an increasing number working from home, pharmaceutical companies have seen restraints on traditional methods of data communications, such as one-to-one sales calls and educational conferences. This begs the question: how can the healthcare industry continue to communicate the latest data in a world of remote working?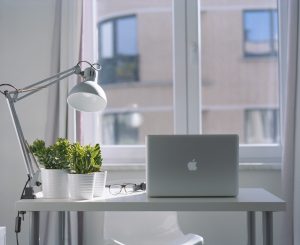 Photo by Daan Stevens on Unsplash
The opportunity
The world of remote working has presented new and unexpected opportunities, shaking up traditional communication methods. We consider a few thought starters that will give you a fresh take on communicating your science.
Virtual events: In the height of lockdown, the use of video conferencing took the working world by storm. Reports suggest that Zoom Meetings, a popular video conferencing software, saw an increase from 10 million daily meeting participants at the end of 2019, to a staggering 100 million in March 2020.3 Typically, when we think of video conferencing we consider this as a tool for virtual work meetings or even catching up with friends. However, the opportunities stretch far beyond this. In particular, we have seen the development of virtual conferences to communicate science. Virtual conferences have the benefit of broadening access, enabling delegates from all around the world to attend.
Webinars: While video conferencing software has made working from home more convenient for many, remote working has coincided with longer hours for many. The Office for National Statistics reported that around one-third of people working from home worked more hours than usual during the height of lockdown.2 With longer working hours, the use of on-demand webinars are a fantastic way to provide access to valuable content for an audience with limited free time.
Virtual detailing: The limit to physical sales calls has pushed companies to look for other means to communicate their key messages. The concept of virtual detailing has been a widespread trend throughout the industry across 2020. While it may have been speculated that virtual sales calls might limit meaningful and engaging conversation, virtual detailing has come with unexpected benefits. A virtual tool requires more focused and concise messages in order to be easily understood. Companies have been required to consider their key data and most meaningful messages, conveying a more powerful story.
Looking to the future
While mass social distancing in 2020 has forced many into remote working, this lifestyle is here to stay. Seizing opportunities presented in the world of remote working will be imperative not only for now, but for future years to come.
Want to find out more about how you could use digital platforms to communicate your science?
At Enzyme Communications, we are science communication specialists who offer services that help companies make complex information consumable. Whether you're looking to advertise a new product or communicate vital pieces of information to many, we're here to help. If you would like to find out more about our services, please don't hesitate to get in touch.
References
ABPI. Worldwide pharmaceutical company R&D expenditure. 2020. Online. [Accessed 05/10/20]. Available from: https://www.abpi.org.uk/facts-and-figures/science-and-innovation/worldwide-pharmaceutical-company-rd-expenditure/